You can read STORY BOOK English Version by Adobe PDF.
In 2013, the 21st century's new combative sport champion league "Yo-Yo Fist" entered its 6th season. Team STURM PANZER was ready with a new Yo-Yo "STEALTH OGRE" developed by the defense contractor "Marshal Industry". Kasumi Hino is an engineer of Marshal Industry. She was sent to Team STURM PANZER for maintenance of STEALTH OGRE. The device of "Bio-Spinner System" on STEALTH OGRE, which gives you superhuman ability for combat by directly connection between your brain and Yo-Yo.
But there were serious flaws of Bio-Spinner System. The spirit of the player using STEALTH OGRE is out of control, he killed teammates and himself.
Team STURM PANZER received penalty that is disqualification in 2013 and suspension in 2014. This is called "The STEALTH OGRE Incident".
In 2015, Kasumi comes back to Yo-Yo Fist at STURM PANZER led new Yo-Yos and players !
...... This is summary of STORY BOOK #1 with SY-001 STEALTH OGRE.
Please read continued STORY BOOK #2 with SY-002 LEO SNIPER MK-2.
Click here for
STURM PANZER_STORY BOOK #2
(Adobe PDF, 12MB)
*Please download and save when you can't open PDF.
The next is STORY BOOK #3
Now, we are making English translation of STORY BOOK with the volunteers overseas. We will publish on this website when English translation is complete. Please wait for a while.
By the way, we would like to rewrite STORY BOOK #1 as author.
To translate into English when we rewrite.
Character introduction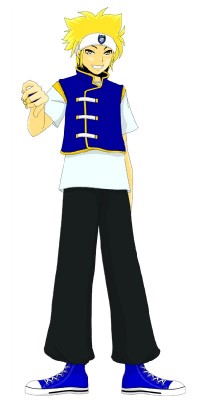 Kyoshiro Aoi
Age: 16 Height: 166cm Blood type: A
Yo-Yo: LEO SNIPER
Play style: Counter Grenade
Special Moves: STURM Clover Edge
Kyoshiro is the hero of this story.
He has been hailed a genius yo-yo player.
His heavy-handed character is lack of sociability.
In 2015, Kasumi recruites Kyoshiro for Team STURM PANZER. But the potential of Kyoshiro & LEO SNIPER
is not high...
He has ambition want to be God.
Kyoshiro & LEO SNIPER fight at "Counter Grenade".
(with
Homing Booster
&
Tactical Eye
, Adobe PDF)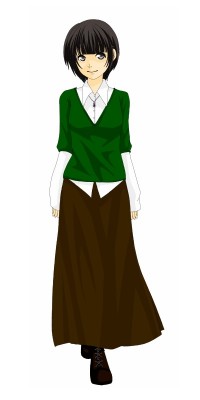 Kasumi Hino
Age: 29 Height: 156cm Blood type: O
Yo-Yo: She is not a player of Yo-Yo Fist
Play style: Commander of Team STURM PANZER
Special Moves: Spider Baby
Kasumi is an engineer of the defense contractor "Marshal Industry".
One of the developers of "Bio-Spinner System"
that is directly connected to the brain and Yo-Yo.
In 2013, she was tasked with maintenance of STEALTH OGRE.
After that, Kasumi recruited Kyoshiro, Reita and Gouki who is a high school classmate.
ECLIPSE OGRE that Gouki uses is her proprietary.
Kasumi to do the only thing necessary to herself.
Feel the coldness of beauty, but she is friendly personality.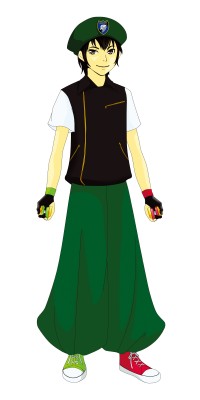 Gouki Hiura
Age: 29 Height: 155cm Blood type: AB
Yo-Yo: ECLIPSE OGRE Luna & Ray
Play style: 2-handed string trick
Special Moves: Eclipse Driver
Kasumi & Gouki, they were clasmates of high school. After the "STEALTH OGRE-Incident",
She has developed ECLIPSE OGRE Luna & Ray.
In order to conquer the world by using
the Bio-Spinner System of ECLIPSE OGRE,
she teamed up with him.
He has the strongest power and the fastest speed until the battery on ECLIPSE OGRE gets
no remaining. But defense is very weak
as a piece of paper.
Why does the color of his wristband and sneakers same as ECLIPSE OGRE ?
Because she confirm whether left side or right side of his body is active.
ECLIPSE OGRE is in control by her always.
He is "fragile human" if she is absent.
Moment of "ECLIPSE", Kasumi & Gouki intersects as the Sun & the Moon,
they will release the power of miracle to overturn the world !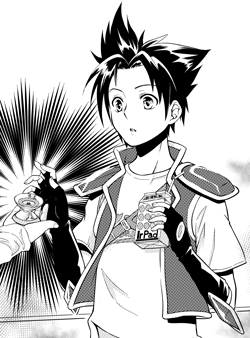 Reita Sugo
Age: 15 Height: 164cm Blood type: B
Yo-Yo: SCHNEIDER
Play style: 1-handed string trick
Special Moves: Return of the JAGER
Reita is a junior of the high school that Kyoshiro attending. To know news that Kyoshiro enrolled
in the high sclool by "Yo-Yo Recommendation",
Reita started Yo-Yo, so he is a biginner.
SCHNEIDER had been developed at the same time
as STEALTH OGRE, it became discontinue.
But SCHNEIDER has the strongest offensive power !
Asuka Jio
Shinya Kuragumo
Yukiko
Hoketsu-Kun